Description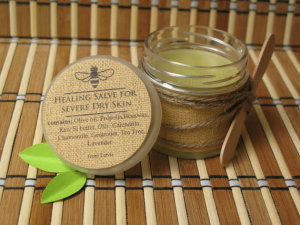 A great, all round salve that everyone should have in their bag.
Created entirely from organic oils and beeswax, this nourishing salve is perfect for skin that needs some tlc,used to encourage the rapid and healthy regrowth of skin and tissue cells.
Propolis, an amazing natural product that is produced by bees to cover their hive and protect it from bacteria, is renowned for its amazing restorative properties and is especially good at helping to heal, soothe and protect weak or damaged skin.
The salve contains olive oil , plus beeswax and propolis, all blended with the calming essential oils of lavender and camomile.
made from:
Ingredients Organically Produced* – Olive Oil* infused with Propolis*, Beeswax*, Lavender Essential Oil*, German Camomile Essential Oil*.
No artificial ingredients, no petroleum products or other synthetics . The best way to heal your skin is to avoid these man-made things all together and stay with the pure botanical ingredients.
* One 2 oz. salve